Spotlight on Equity Portfolio Manager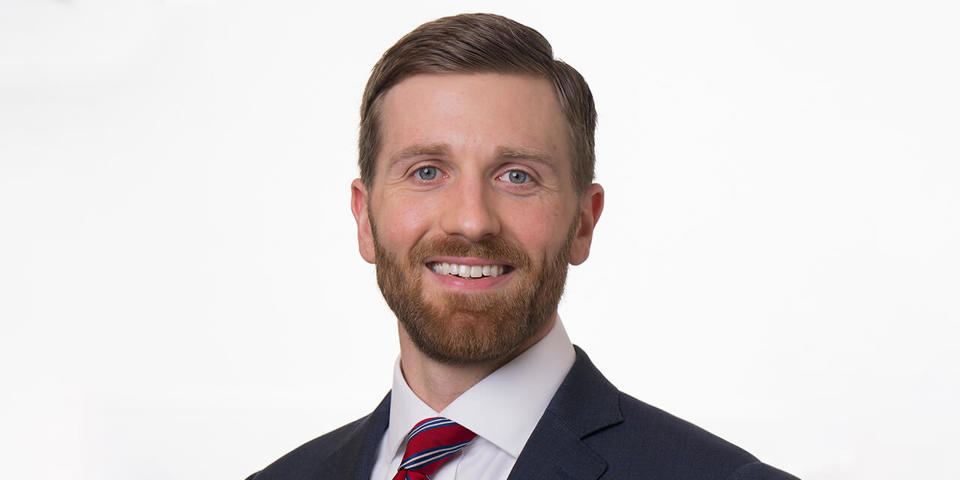 Talk a little bit about your background and your journey to the trust company.
The journey began in the summer of 2007, when I was an undergrad at the University of Notre Dame and got a summer internship working with Andy Means on the Large Cap Equity strategy. The next summer, I took an internship with Fidelity in Boston, which turned into a full-time role as an equity research associate on the health care team in 2009. After two years with Fidelity, I moved back to Louisville and joined River Road Asset Management as an equity analyst.
After I had been back in Louisville for several years, Andy and I rekindled our relationship and started getting lunch on a regular basis. That led to the realization that both of us thought a lot alike and resulted in him extending an offer for me to come join him at Hilliard Lyons Trust (now Baird Trust) in August 2016 as Associate Portfolio Manager.
How would you describe your working relationship with Andy?
There were two main reasons I decided that this was the right opportunity for me: One is the investment philosophy, but the other was to be able to work directly with Andy. He's a mentor for me, and I try to learn as much as I can from him.
We've known each other a very long time. We think about investing the same way; we challenge each other; we learn from each other. At the end of the day, we're both driving toward the same goal with the same underlying investment philosophy. We have an excellent working relationship, and that won't change at all in terms of execution or managing the portfolio.
We've known each other a very long time. We think about investing the same way; we challenge each other; we learn from each other. At the end of the day, we're both driving toward the same goal with the same underlying investment philosophy. We have an excellent working relationship, and that won't change at all in terms of execution or managing the portfolio.
The Large Cap Equity strategy has essentially been Andy's life's work. He's been the lead manager for nearly 25 years, and the investment track record he's put together over that time is impressive. I'm incredibly humbled to become an equal partner with him on the strategy.
What do you do on a day-to-day basis as an equity portfolio manager?
My goal every day is to learn something new. This could be something about a business that we already own in the portfolio. It could be about a business that we don't own but might want to own. It could be about an industry that impacts a business we own. It could be about a management team, or anything that could impact our investment decisions.
Most of my days are spent reading company filings, news articles, interviews with management teams, conference transcripts, and even books on a company's history. It's a compounding of knowledge that builds up over time so that when an investment opportunity does come along, we can use that knowledge to make a well-informed investment decision, whether that's a purchase or a sale or simply to continue holding an investment in the portfolio.
We have more information than ever at our fingertips these days. How has this changed investment management?
The widespread availability of information has made it harder for professional investors overall, but also easier in some ways for people like us who have a very long time horizon. How is it harder? Well, it's nearly impossible now to get any kind of information advantage over everyone else. It's extraordinarily difficult to find some unique piece of information that's going to give you a huge edge on a stock. Twenty years ago, that was a real thing, where you could find that nugget that no one else knows about. Today, that is all but impossible to do, especially in the large cap space.
Our advantage is being able to think in five- and 10-year increments. Much of today's investment industry has become so short-term oriented, sometimes missing the forest for the trees. A few years ago we were researching a specialty retailer, and there was so much fear that Amazon was going to enter the category and destroy this business. But all our research told us that that fear was overblown over the long term.
Investors who were worried about the next one or two quarters didn't really care that three to five years down the road, there wasn't really going to be a problem. And so we were able to take advantage of that sort of time arbitrage. That longer-term time horizon is huge for us. Not a lot of people think about stocks this way.
How would you describe your investment philosophy?
My investment philosophy and the Large Cap Equity investment philosophy are one and the same: to think and act like long-term business owners at all times. We don't view stocks as trading chips to be shuffled around on a daily or monthly basis. We view each investment as a fractional ownership stake in a business that we intend to hold for the long term.
We try to block out all the noise and focus on three things: the quality of the business, the strength of the company's management team, and the stock price in relation to what we think the business is actually worth. Once we identify an investment that meets all three criteria, our intention is to own it for as long as possible. If you look at the history of the portfolio, on average we will hold each investment for more than 10 years.
How often do you buy or sell issues in the portfolio?
It's relatively infrequent, although it typically happens in bursts. We made a number of changes in 2020 because there was a lot of volatility, which created several opportunities to invest in great businesses that we had been watching for a number of years.
This year we haven't made any portfolio changes because there just haven't been many opportunities to take advantage of. Often what happens is we will find a business that we love, but it's not trading at a price that we love yet. So we will watch it for months, sometimes years, until that opportunity comes where we can take advantage of some sort of dislocation in its stock price.
Who else works with you on the Large Cap Equity team?
The third team member is Ross Demmerle, an equity analyst whose role is to support our research efforts. He does a terrific job, and our job would be much more difficult without the work that he does. The three of us have been together as a team since August of 2016, so we know each other really well. We all feel comfortable challenging one another when we have a different viewpoint, which is an important team dynamic in investing.
Talk about how the Large Cap Equity team interacts with the larger Trust Company.
The Large Cap Equity strategy has been the cornerstone of the trust company's investment offerings. We're in constant communication with the trust portfolio managers, both informally but also through more formalized weekly investment meetings where we'll get together and discuss our portfolio.
We use what we call a Core + Satellite investment approach for Trust clients that utilizes the Large Cap Equity strategy as the core equity allocation while gaining exposure to additional asset classes through mutual funds and ETFs and individual fixed income. Additionally, the Large Cap Equity strategy can also be accessed through Baird's Separately Managed Accounts (SMA) program at a minimum of $80,000. So you don't have to be a trust client to use this investment strategy – all Baird clients have access to it through a model-based portfolio.
What do you like to do away from the office?
I love being active and I love to travel. My wife and I do a lot of rock climbing, hiking, camping, and backpacking, both in Kentucky but also at national parks around the country. In May 2021 we went to Yosemite National Park, which is my favorite of the ones we have visited. I actually got a chance to climb a little bit of the famous El Capitan – just the very bottom 50 feet of the 3,000 total feet, but that was a pretty special experience.
What's on your bucket list?
I would love to hike to base camp at Mount Everest in Nepal, or do the W Trek down in Patagonia, which is a five-day hike. Antarctica has always fascinated me, so hopefully I can get down there at some point in the future.